We aim to minimize the impact our operations may have on natural environments and on communities that neighbor our projects. We work together with communities to manage or reduce any impacts on local communities' health, safety, access to fresh water, food or income. Together we bring benefits to the communities and local economies where we work.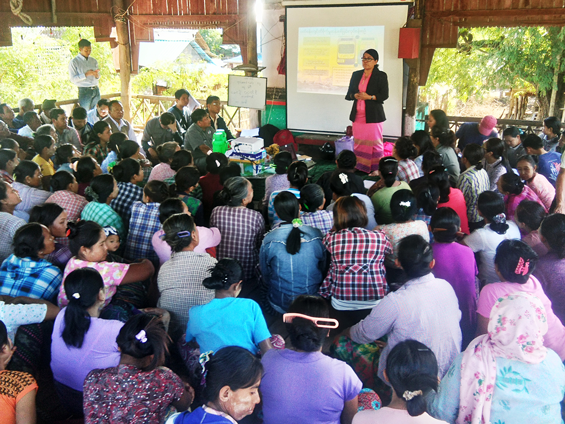 Environmental Impact Assessments
An Environmental and Social Impact Assessment (ESIA) is the process of analyzing, monitoring and managing the intended and unintended social and environmental consequences of planned interventions. The process drives improvements to increase the value of programs and enable organizations to plan better, implement more effectively, and successfully bring initiatives to scale.
MPRL E&P commissioned Environmental Resources Management (ERM), a contractor specializing in environmental and social studies for a number of projects in accordance with the requirements of the Myanmar Environmental Impact Assessment Guidelines, to undertake environmental and social impact assessment studies for blocks IOR-4 & IOR-6, and an environmental impact assessment for Mann field.
Environmental Management Plans (EMPs) and Environmental Action Plans (EAPs) have been developed to monitor and minimize environmental impacts associated with our projects. The plans provide mitigation measures required to minimize impact associated with project activities.
Zero discharge targets
Fuel and energy consumption reduction
Well-site abandonment
Environmental Analysis and Monitoring Framework
Environmental Incident Response Plan
Waste Management Plan
Spills Management Plan
Initial Environmental Examination (IEE)
Under current Myanmar laws and regulations, offshore operators are required to undertake an Initial Environmental Examination (IEE) prior to commencing on marine seismic survey and acquisition campaigns. The block A-6 JV undertook an independent third party IEE through engaging with AECOM Malaysia and eGuard Environmental Services in late 2015 (including public consultation) and prior to commencing with a new 3D seismic acquisition campaign in March 2016. The IEE report was submitted to MOGE and the Ministry of Natural Resources and Environmental Conservation (MONREC).
Public Consultation
MPRL E&P intends to disclose all environmental related policies, reporting of EIA and/or SIA assessments and results which are recognized by a consensus of relevant stakeholders including, but not limited to, government representatives, international non-governmental organizations (INGOs) and local non-government organizations (NGOs), civil society organizations (CSOs), and host communities.
In compliance with the Myanmar Environmental Conservation Law and Environmental Impact Assessment Guidelines, MPRL E&P has recently undertaken an environmental and/or social impact assessment (EIA or ESIA) in three of its onshore assets. An ESIA conducted in these assets focused primarily on public consultation and collecting baseline data to identify and measure risks impacting the business and project-affected communities. Existing internal policies has influenced the level of communication taken to disclose the report to primary and secondary stakeholders. Concerns and complaints have been recorded and
disclosed on the company website.


Reporting