MPRL E&P has a reputation of conducting business with honesty and integrity. We are proud of our achievements and believe our continued success is possible because of the people we work with.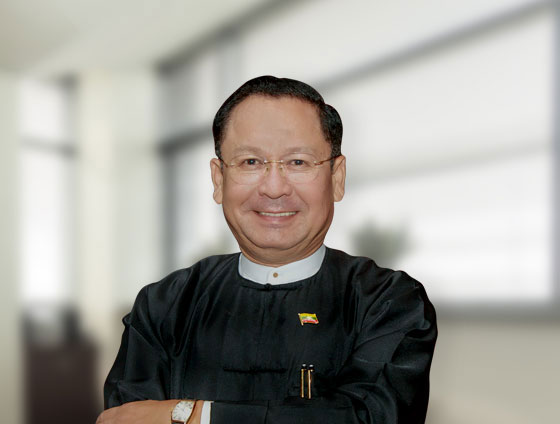 Chief Executive Officer's Message
"Energy will always play an essential role in regional and global development. Myanmar is a proven oil & gas province, yet it remains one of the least explored countries in the world. We are here to lead the process of unlocking and realizing our country's energy resource potential, and to do it in a responsible and sustainable manner, thus continuing to play a key role in the development of the country and ensuring economic prosperity for future generations."
Since its founding in 1996, MPRL E&P remains strong and resilient even in the wake of global oil markets undergoing a significant change in 2015. The company has successfully navigated and adapted through challenging times within the global oil and gas industry through focusing on pursuing the right opportunities and continuing to utilize robust capital stewardship practices.
I am pleased to indicate that MPRL E&P is now one of the largest acreage holders in the Myanmar upstream oil and gas sector. Over the past twenty years, the asset portfolio of the company has grown considerably and now consist of a total of five onshore and three offshore assets. After another successful exploration drilling campaign in block A-6, we are now poised to enter the appraisal drilling campaign commencing in April 2017 with the intent to understand the commerciality of developing the opportunity. Our efforts together with MOGE in Mann Field, continue to enable us effectively maintain the production decline rate of the asset. We intend to leverage and apply our Mann Field successes and experience towards realizing value in blocks IOR-4 and IOR-6 where we see opportunities in existing hydrocarbon reservoirs as well as further exploration potential. We are currently at the front end of exploration efforts in blocks A-4, A-7, RSF-5, and PSC-K. We have acquired significant amounts of new data in the form of 2D and 3D seismic as well as airborne gravity magnetic surveys; all of which will enable us to have a solid understanding of the prospectively within these assets. Through our organizational capabilities, experience, and strategy, we will continue to deliver results that have a long lasting positive impact towards the growth and development of the country.
Sustainability remains a key area within our corporate strategy. We will consistently develop and apply processes that enable us to continuously improve our safety culture. We will utilize approaches that always minimize our environmental footprint and impact that may result from our operations. In the absence of adequate regulations yet to be in-place, we will continue to strive to leverage and apply industry best practices and standards regarding environmental management. We will maintain our strong positive relationships within the communities where we operate with the intent to ensure that we continue to have long term social licenses to operate.
I am proud of all we have accomplished over the last twenty years. I am also excited and energized as we enter our next decade. I will ensure that MPRL E&P remains at the fore-front of the upstream oil and gas sector in Myanmar, and is fully committed towards continuing to actively support the sustainable and holistic development of the nation. We will continue building on the strengths of our past, and with our proven track record, capabilities, as well as unwavering corporate values, look forward towards continuing to play an active part of building a brighter future for the Republic of the Union of Myanmar.
U Moe Myint
Chief Executive Officer
Chairman