After five years of exploration, MPRL E&P made the first gas discovery (Pyi Thar-1 in 2012) in the Western Ayeyarwady Basin at its sole risk with its own funds. Woodside and Total became co-venturer in 2013 and 2015 respectively. The resulting second gas discovery was followed by three more gas wells in 2017-2018. Five out of five wells drilled in Block A-6 found gas and brought the joint venture within line of sight of commerciality. The joint venture is now striving to unlock the supply of a clean and long-term sustainable source of energy to drive the development of the nation.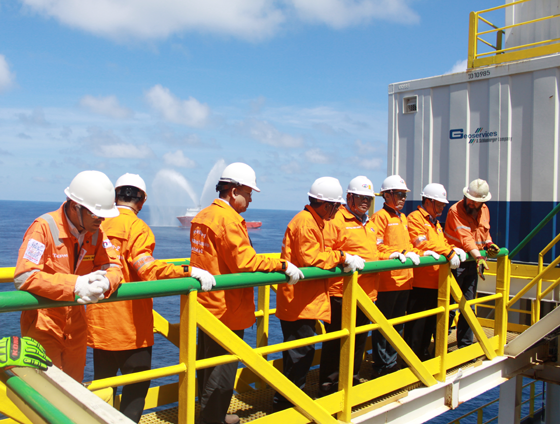 Block A-6, covering nearly 10,000 km2 from the shore to more than 2,400 m water depth, only had some 1,330 km of old vintage 2D seismic data when MPRL E&P signed the production sharing contract in January 2007.
Since then, MPRL E&P undertook extensive geological studies which included four field study expeditions all along the Western Ayeyarwady coast and acquired nearly 2,000 km of 2D seismic in 2009. This was followed by the acquisition of the first 3D seismic survey in the block.
Pyi Thar-1, the first well drilled in the block which resulted in a gas discovery, was drilled in March 2012 in 200 m water depth. The well successfully identified a new petroleum play system consisting of sands deposited by what is believed to be ancient Ayeyarwady submarine river course (see "MPRL E&P's Pyi Thar Gas Discovery – Realizing the Vision for Long-Term Sustainable Energy in Myanmar" and "Press Release of Well Pyi Thar-1").
Attracted by this exciting find, Woodside farmed-in to the block in 2013 and the JV acquired a new 3D seismic survey over a large structure located in the ultra deep water region and first identified by MPRL E&P in its 2D seismic survey in 2009. Total joined the block A-6 joint venture in 2015.
A second gas discovery was achieved when Shwe Yee Htun-1, the second exploration well in the block, was drilled in late 2015 targeting a prospect over 5 km from the surface and in water depths of 2,034 m. This outcome has enabled the block to move into the appraisal phase. Shwe Yee Htun-1 also holds the record for the offshore well drilled in the deepest water depth in Myanmar. ( see "Press Release of Well Shwe Yee Htun-1″)
Another 3D seismic data acquisition campaign was undertaken in April 2016 whereby the joint venture is now aggressively planning for subsequent appraisal wells to be drilled with the intent towards rapidly understanding the commercial feasibility of the asset.
As a third gas discovery well, Pyi Thit-1 was drilled in ultra-deep waters of Block A-6 in June 2017. This well discovered gas in channel sands at shallower depth than Shwe Yee Htun-1 (2,001 m), with excellent reservoir quality which comforted the A-6 JV in the reliability of the seismic image. This well was tested and flowed 50 MMscf/d of gas, a rate which was constrained by the equipment of the drill-ship; pressure monitoring indicated access to a substantial pool of gas. (see "Press Release Well of Pyi Thit-1")
Pyi Tharyar-1, as a fourth well in Block A-6, was drilled in August 2017 and targeted a much shallower play below sea bottom in deeper waters to the West. This well showed only 3 m of gas-bearing sands. This result, however, further reinforced the A-6 JV's confidence in discriminating between gas and water-bearing sandstones using 3D seismic.
As a fifth gas discovery well, the Appraisal Well Shwe Yee Htun-2 has been successfully drilled in July 2018 with formation evaluation results indicating a gas column and net pay thickness that substantially exceeds prior expectations. Wireline formation evaluation including pressure measurements demonstrates that the reservoir is highly likely to be in pressure communication with the 2016 Shwe Yee Htun-1 discovery, which is approximately 10km east of the current drilling location. Drill stem test results indicate Shwe Yee Htun-2 achieving a flow rate of 50 million standard cubic feet per day (up to 53.7 million standard cubic feet per day) of gas limited by testing equipment through a 40/64″ choke. ( see "Press Release of Well Shwe Yee Htun-2″)
On 16 December 2019, MPRL E&P and its Block A-6 Joint Venture partners Woodside and Total, successfully executed two agreements with Myanma Oil & Gas Enterprise (MOGE). These agreements include the Fourth Amendment and Supplementary Agreement to the Production Sharing Contract and the Agreement on Upstream and Midstream Ratio. These agreements establish the necessary fiscal framework enabling the Block A-6 project to best achieve economic viability. They further provide a clear line of sight towards the commerciality of this ASEAN's first ultradeep water gas development project with first gas targeted for 2023.
MPRL E&P continues to lead the offshore exploration sector by moving closer towards unlocking the gas potential of block A-6 in the form of a clean and long-term sustainable energy supply that Myanmar may leverage to drive progress in the nation.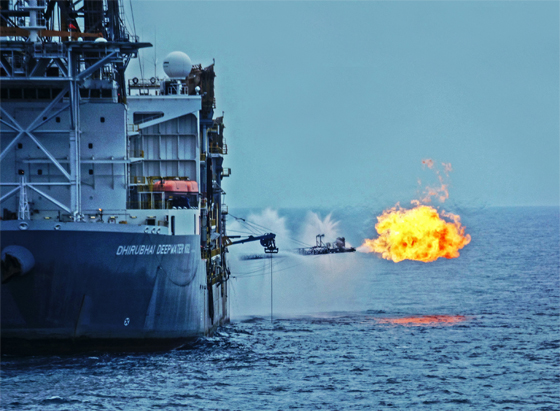 Key Facts
Locations:

Western Ayeyarwady Offshore Region, Myanmar

Fiscal Regime:

PSC (Production Sharing Contract)

Block Size:

Approximately 8,929 sq-km

Participating Interest:

MPRL E&P Pte Ltd. (100% Operator)

Current Period:

Exploration and Appraisal Period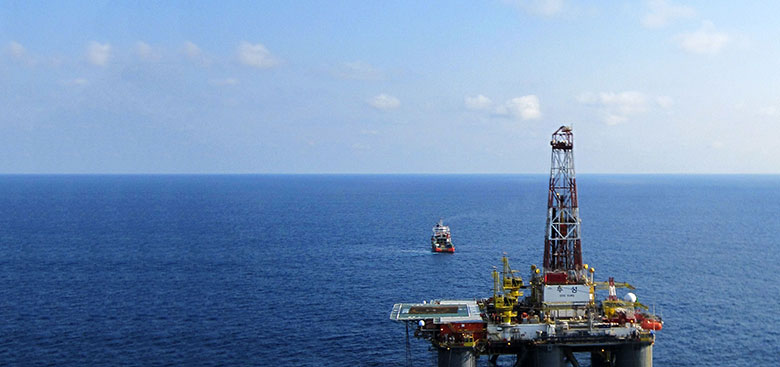 MPRL E&P's Pyi Thar Gas Discovery – Realizing the Vision for Long-Term Sustainable Energy in Myanmar
How a small independent embraced the challenges of exploring frontier waters in a harsh business environment and made a momentous basin-opening gas discovery
Read more
MPRL E&P's Pyi Thar Gas Discovery – Realizing the Vision for Long-Term Sustainable Energy in Myanmar

How a small independent embraced the challenges of exploring frontier waters in a harsh business environment and made a momentous basin-opening gas discovery
In 2007, MPRL E&P was awarded the rights to explore Block A-6 located offshore in the Western Ayeyarwady coastal region in the Bay of Bengal. MPRL E&P undertook extensive geological field studies all along the coast of the Myanmar Bay of Bengal south of Sittwe, lining up a total of more than 400 days of geologists' observations in expeditions and laboratory studies.
In 2009, MPRL E&P undertook to shoot more than 2,000 km of modern 2D seismic lines, including in ultra-deep waters, even knowing the company would never had the means of drilling in such depths. This 2D seismic was acquired to look for hints of deposits of gas similar to those discovered in areas such as in the deep waters of India on the other side of the Bay of Bengal, and with a vision that some partner with deep pockets would be able to invest in this expensive exploration game.
Having mapped some interesting teasers, MPRL E&P acquired the first ever exploration 3D seismic survey of the southern Western Ayeyarwady Basin, which threw light on exciting gas-telling features in the form of stacked bright seismic amplitude anomalies known by geologists as "bright spots".
At this point MPRL E&P searched for investors to fund the drilling of the committed exploration well. Most of the initially interested companies expressed doubts that reservoir sands could be deposited in this environment, arguing that the results of wells drilled in the 1970's were rather grim, with little sniffs of gas in elusive sandstones.
State enterprise MOGE meanwhile allowed for an extension of the initial exploration period at the condition of drilling two wells instead of one, at which point MPRL E&P obtained that this second well would be intentionally deviated from the original hole as a sidetrack, thereby saving substantial drilling costs.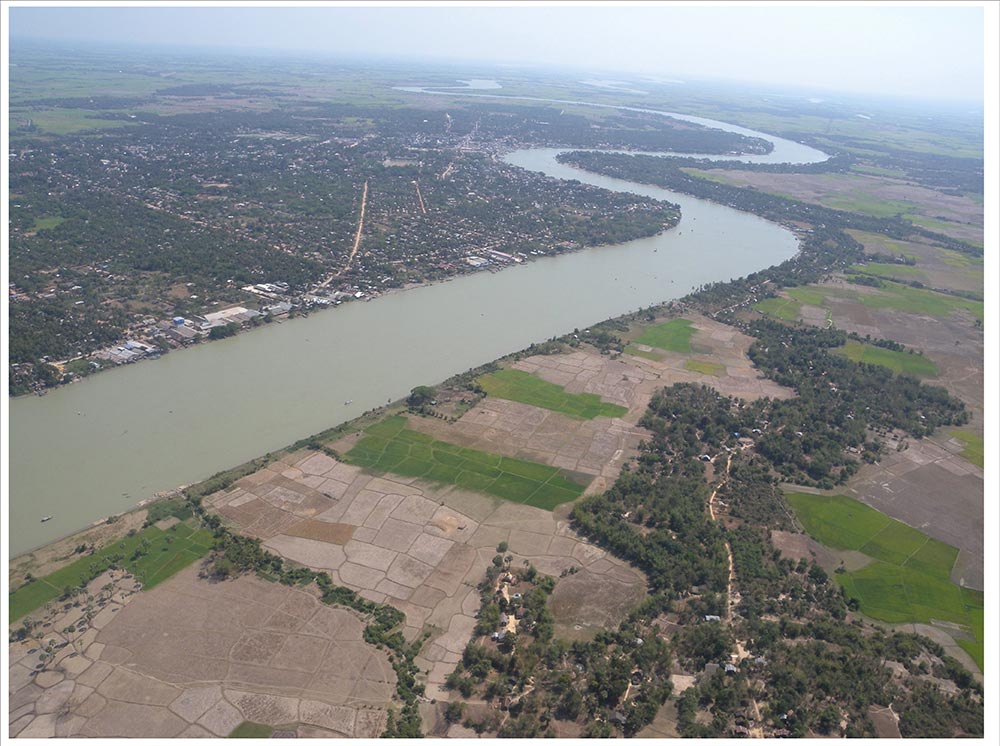 The top image shows one of the Ayeyarwaddy River channels. These channels continue beyond the shores, as sands of the river pour into the sea. MPRL E&P discovered gas in sands of Pyi Thar-1 in the shallower water part of one of these channels while Shwe Yee Htun-1 hit gas in sands of the deep-water part of one channel.
MPRL E&P's executive management was bold enough to trust its geoscience team and risk a substantial amount of MPRL E&P's money considering the relatively small chance of success of finding gas and/or sands while drilling Pyi Thar-1.
MPRL E&P then seized the opportunity of the Korea National Oil Corporation (KNOC)'s Doo Sung semi-submersible drilling platform looking for a short job before sailing to her final destination, and in late February 2012, Pyi Thar-1 was initiated in 200 m of water depth. The vertical hole reached its intended depth of 4,500 ft in a record eight days and proved sands beyond expectation towards the bottom of the hole. One of the big unknown was solved: thick sands do exist in this province, these sands showed up to come from a branch of an ancient Ayeyarwaddy River flowing westwards until about a million years ago.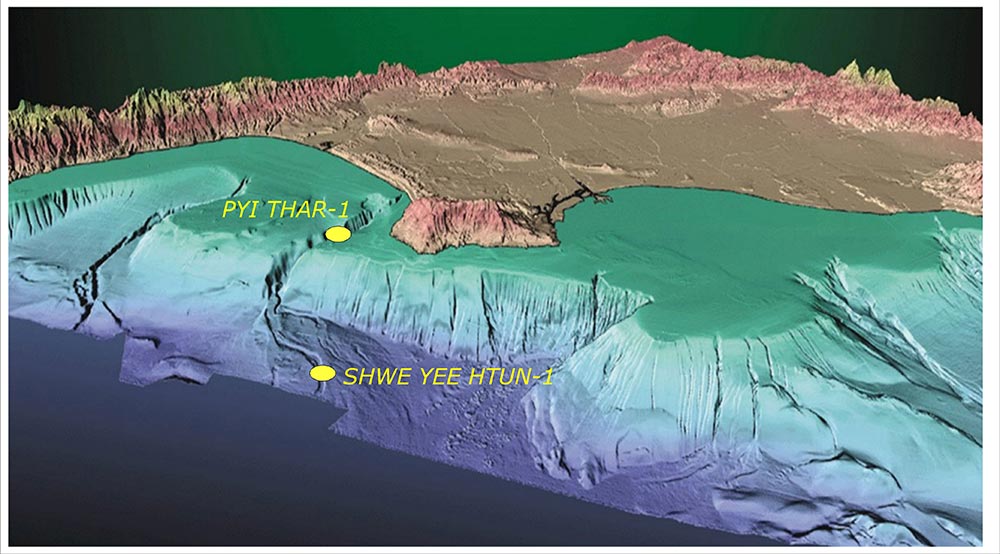 Just three days later, those same sands were crossed again by the drill bit in a sidetrack hole exceeding 45° in inclination, the upper part of which showing excellent gas readings in spite of rapid drilling. Extensive sampling confirmed the find before abandoning the well, 17 days ahead of a 40-day schedule and much under budget. Drilling success stands on three legs: good geological insights, excellent well design and planning as well as smooth and swift logistics and supply. MPRL E&P proved once again to be an extremely efficient operator, having designed, planned, tendered, implemented and drilled an offshore wildcat in a virtually virgin play in less than eight months between August 2011 and March 2012.
The efforts undertaken at MPRL E&P's sole risk, with its own funds in a time of harsh economic sanctions depriving the country of state-of-the-art technology, resulted in the discovery of a world-class new gas province. Had MPRL E&P not discovered Pyi Thar-1, it can only be surmised that hardly any company would be exploring the Western Ayeyarwady Basin at present, and the area would have returned into geological neglect. Four years only after this momentous discovery, four majors have acquired some 35,000 km2 of 3D seismic in the 2015-2016 season in this new play alone. Meanwhile MPRL E&P and its partners Woodside and Total joining to tap into the Pyi Thar success story – made a second gas discovery in Block A-6 with Shwe Yee Htun-1 opening a door to commerciality in deep waters in January 2016, a third gas discovery with Pyi Thit-1 in June-August 2017 being a significant ultra-deep water gas discovery with tested flow rate of 50 MMscf/d of gas and successful drilling of exploration well Pyi Tharyar-1 in August 2017.
---
Explore Other Assets