Following detection of the first virus cases in the country in March 23, MPRL E&P Group of Companies conducted business operations with the minimum number of staff in order to reduce the risk of transmission while requiring many of our staff to work from home. At the same time, practices such as temperature scan, wearing a facemask, washing hands and social distancing have been put in place at the company precincts for the safety of staff, tenants and visitors.
COVID-19 Donation Drives
Supporting medical front-liners and COVID-19 positive patients is very important as the disease unfolds across Myanmar, keeping everyone on the edge of their seats. In this regard, since March 2020, MPRL E&P Group of Companies have steered their donation drives, starting with provision of US$ 13,500 worth 2019-nCoV RT-PCR Test Kits (200 Reaction/Kit) to the National Health Laboratory in Yangon. Then, CEO U Moe Myint and Family continued donating lunch boxes and dinner boxes to doctors, nurses, patients and staff at the Waibargi Specialist Hospital in North Okkalapa and the National Health Laboratory for the whole month of May.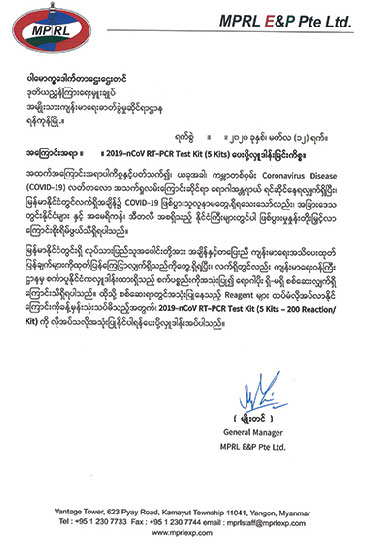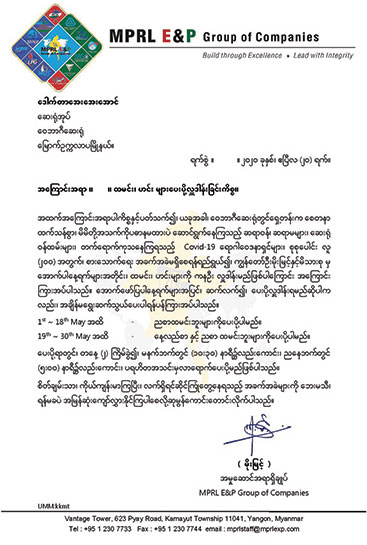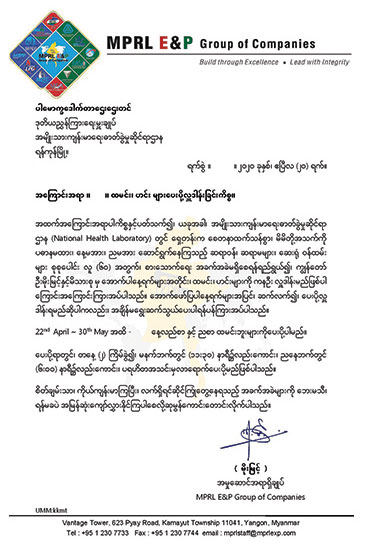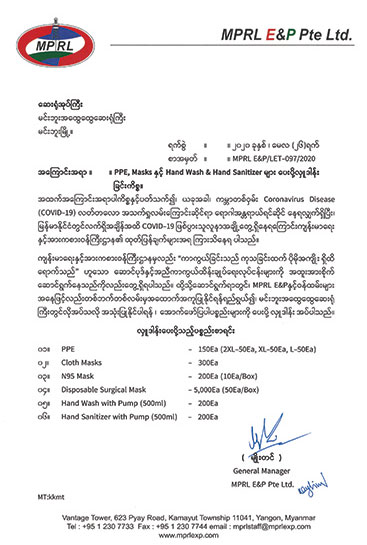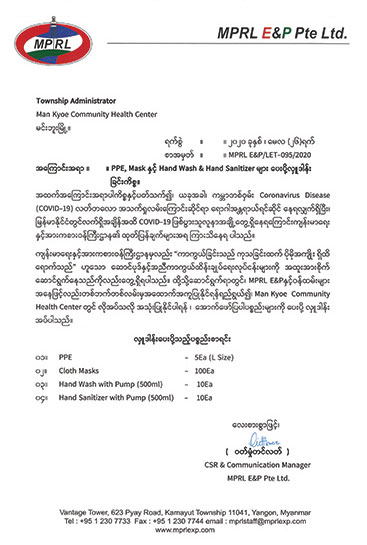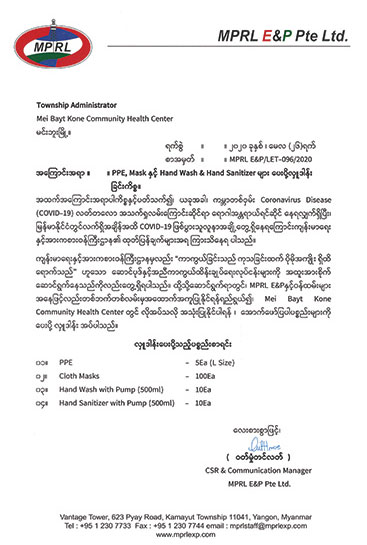 Feeling inspired and in a desire to do their part, MPRL E&P's staff raised a fund together and donated MMK 2,800,000-worth medical supplies to the Minbu General Hospital, Man Kyoe Community Health Center and Mei Bayt Kone Community Health Center in Mann Field. The medical supplies included 160 PPE Sets, 500 cloth masks, 200 N95 masks, 5000 disposable surgical masks, 220 bottles of hand wash and another 220 bottles of hand sanitizer. Additionally, MMK 1,000,000 was supported to Zarmani Myanmar and its Operation Anti COVID-19 Yangon.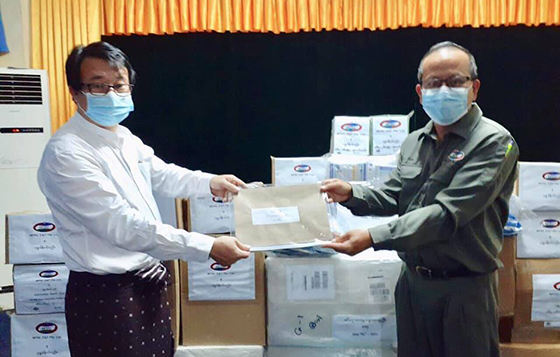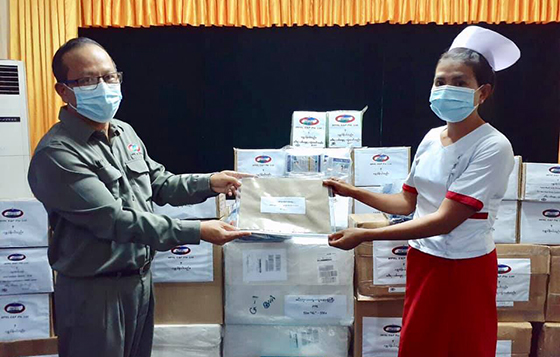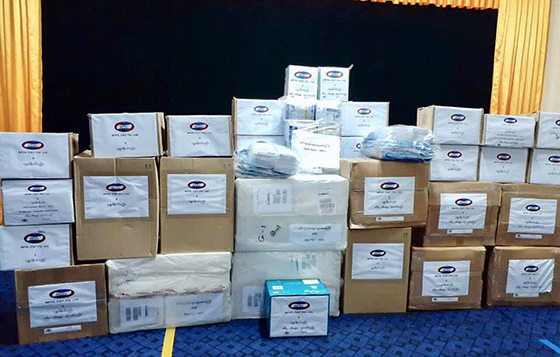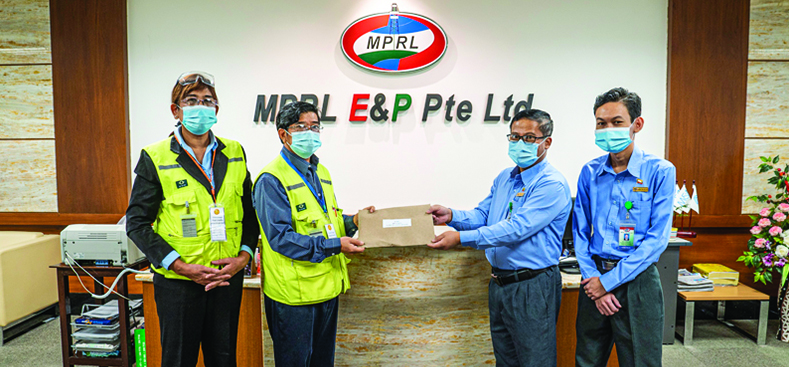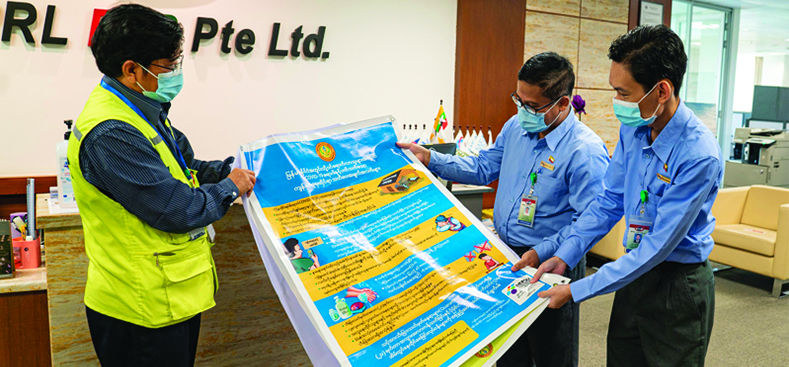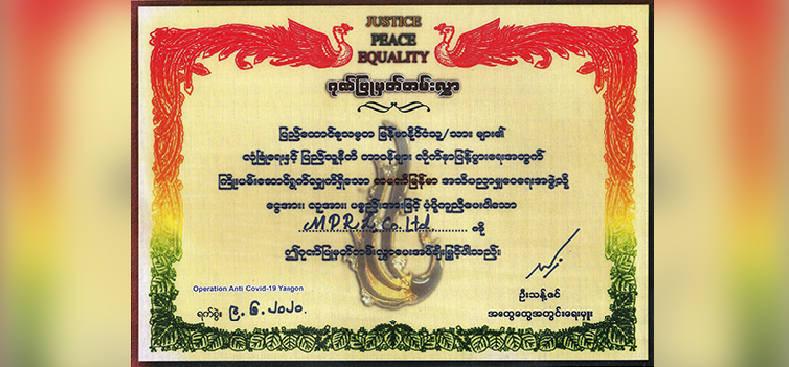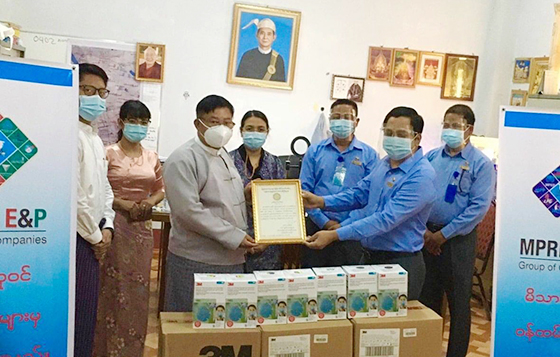 During the month of October 2020, staff of MPRL E&P Group of Companies came together again to donate medical supplies worth over MMK 7 million to the Yangon Region Public Health and Medical Services Department and the donation items were 500 PPE sets and 500 N95 masks. Staff from MPRL E&P also donated breakfast for 200 people and lunch boxes for 160 people for 30 days to Yangon General Hospital, West Yangon General Hospital, COVID-19 Control and Emergency Response Committee (Shwe Pyi Thar Township), and 100 water bottle packs to Yangon General Hospital and also to Shwe Kyar Social Welfare Association (San Chaung Township).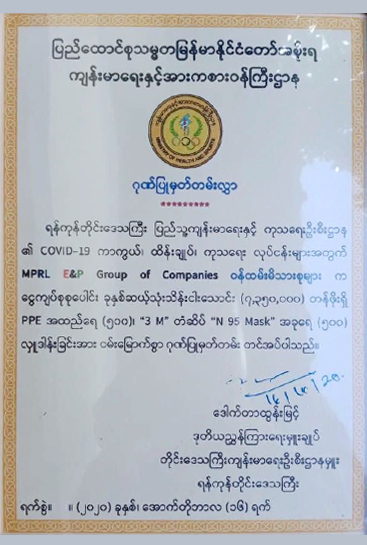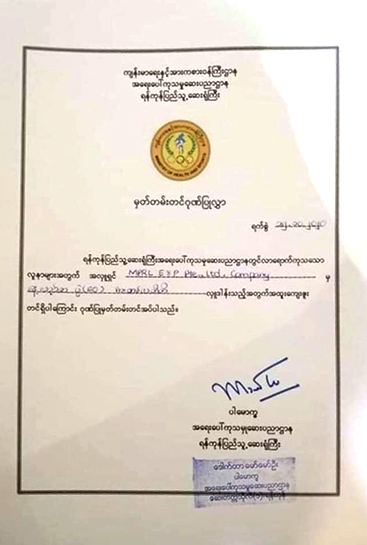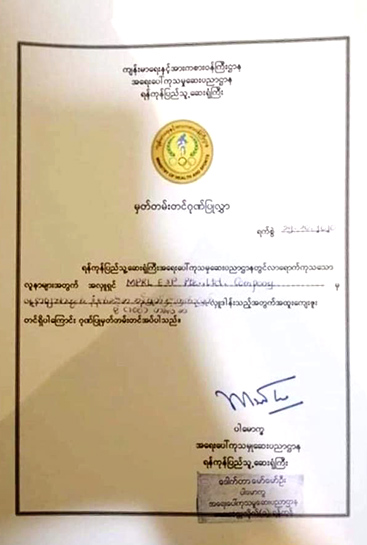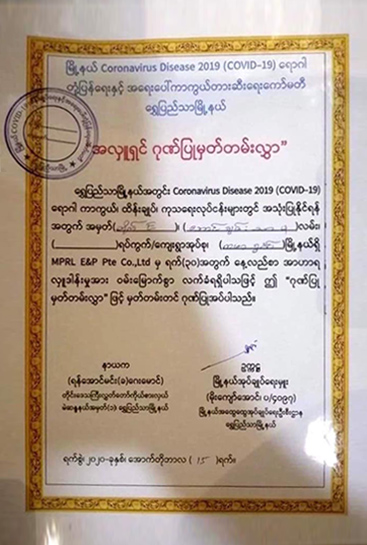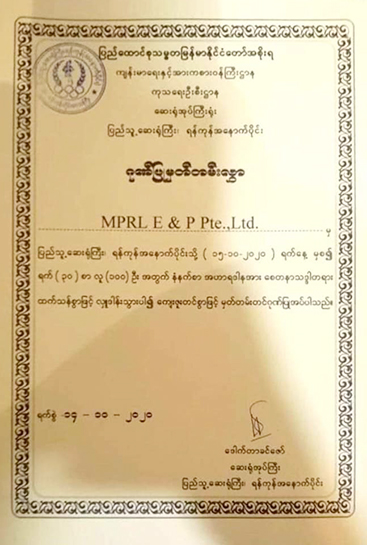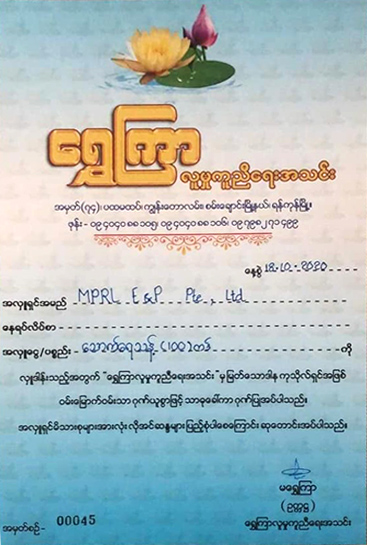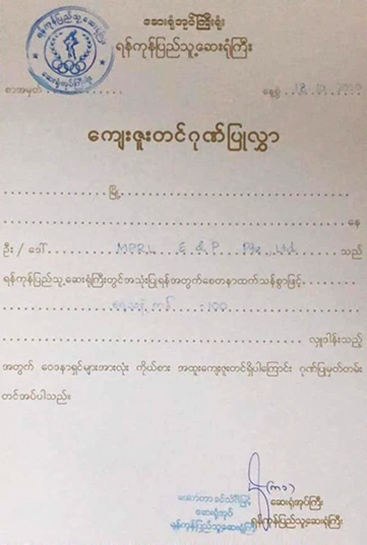 In December 2020, MPRL E&P handed over facemasks to the 550-Bedded Yankin Children's Hospital, Thingangyun General Hospital, North Okkalapa General Hospital, Waibargi Specialist Hospital, Psychiatric (Mental ) Health Hospital (Yangon), East Yangon General Hospital, Yangon General Hospital, Kyi Myin Daing Orthopaedic Hospital, West Yangon General Hospital and Yangon Workers' Hospital, 1,500 each to help protect health care personnel as the Ministry of Health and Sports (MoHS) continues to provide essential services for the country's fight against COVID-19.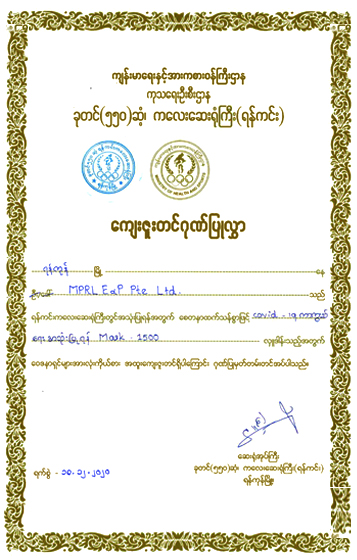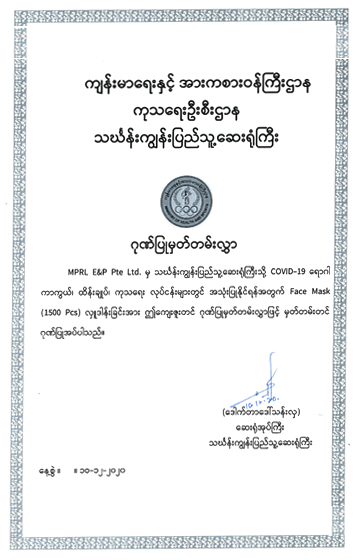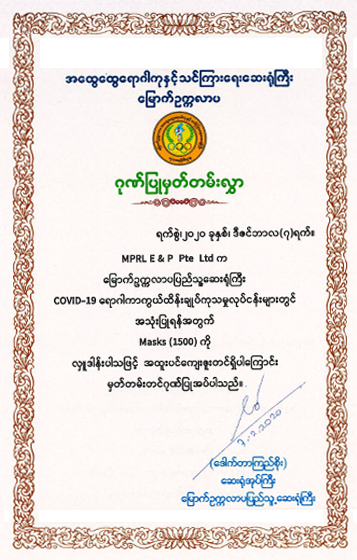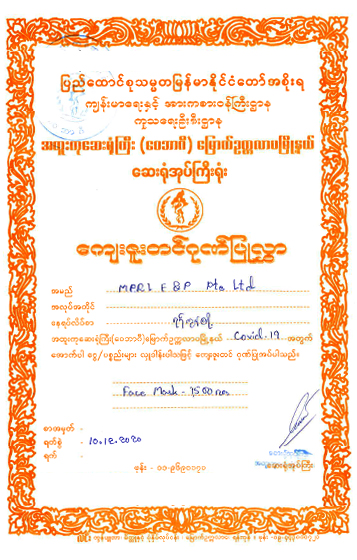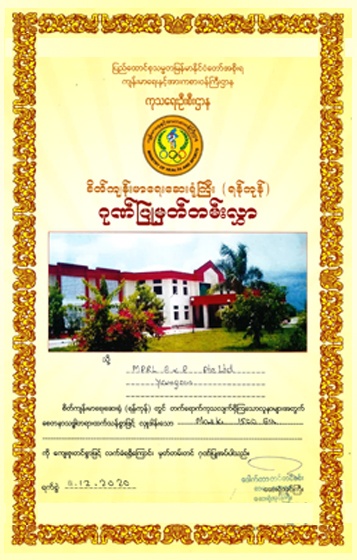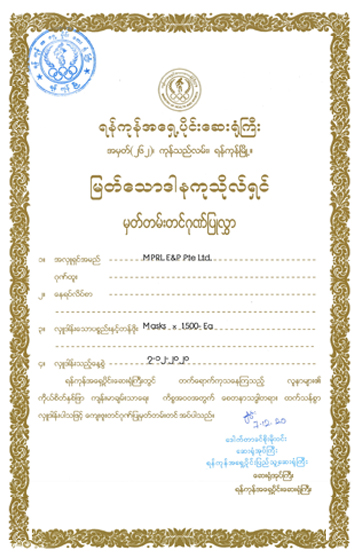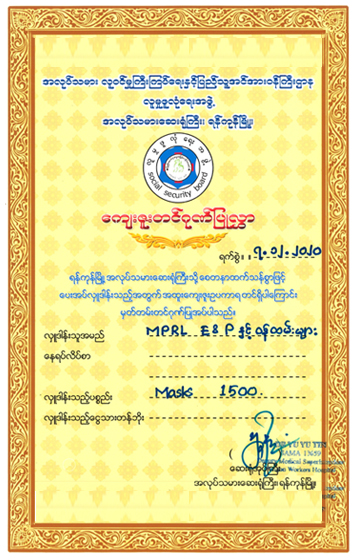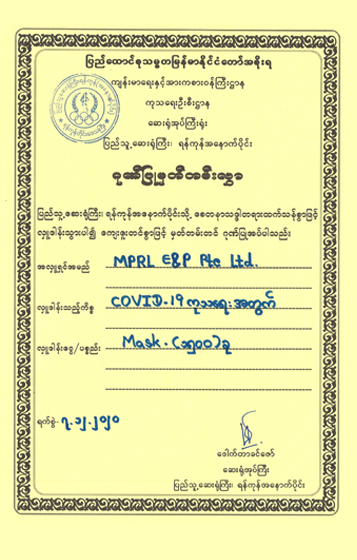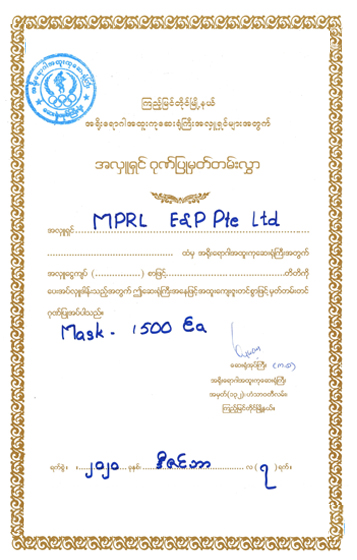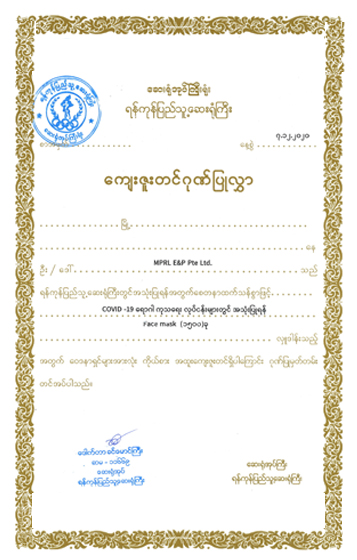 Inspection of COVID-19 Measures in Place by Government Authorities
Amid the uncertainty about when the pandemic retreats, it is essential to set up preventive measures against the virus across our company locations to help plank the curve as early and fast as possible.
MPRL E&P Group of Companies successfully facilitated an inspection tour by the Department of Social Welfare Led Inspection Team at Vantage Tower and received certificates recognizing compliance with the MoHS's instructions and allowing continuing business operations during the first few weeks of May. Specifically for MPRL E&P, both Yangon Office and Mann Field underwent inspections by respective government officials.
Inspection Tour at Vantage Tower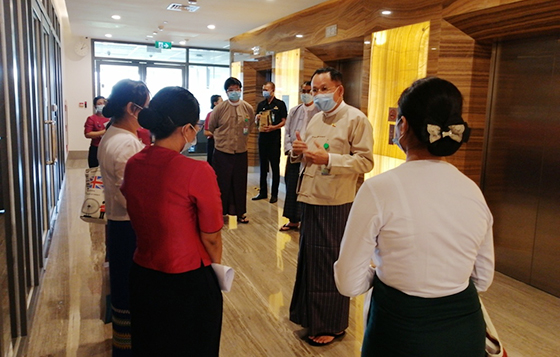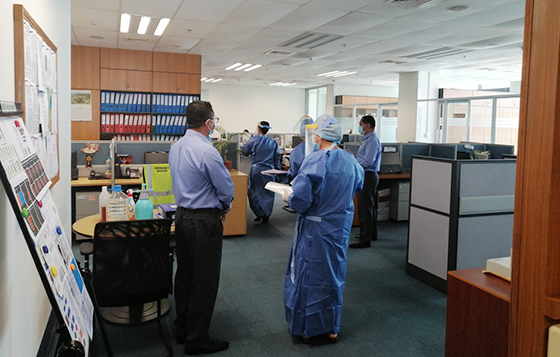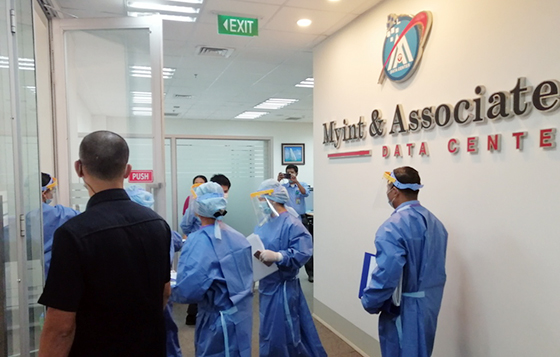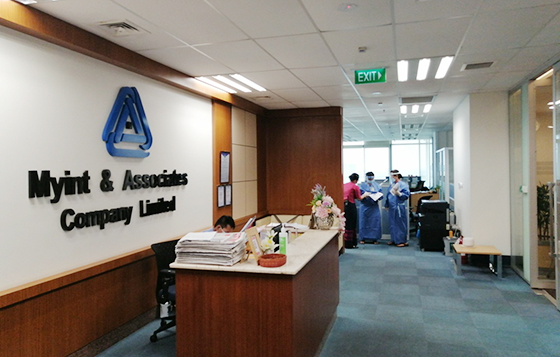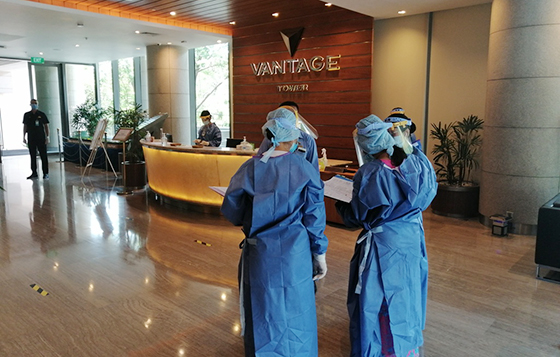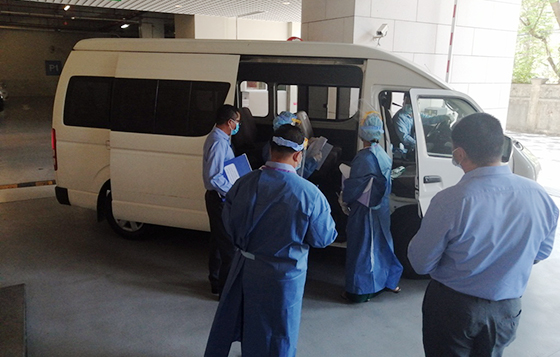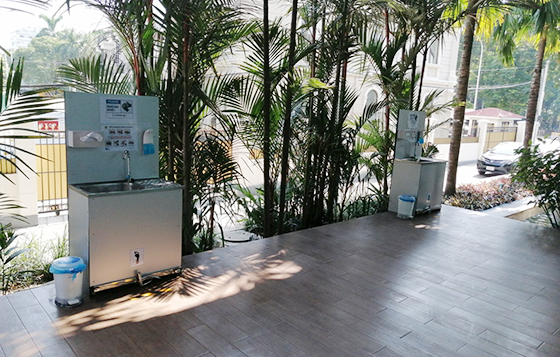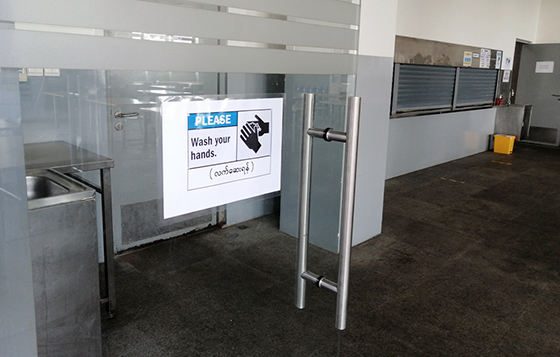 Recognition and Inspection Certificates (Notarial Translations)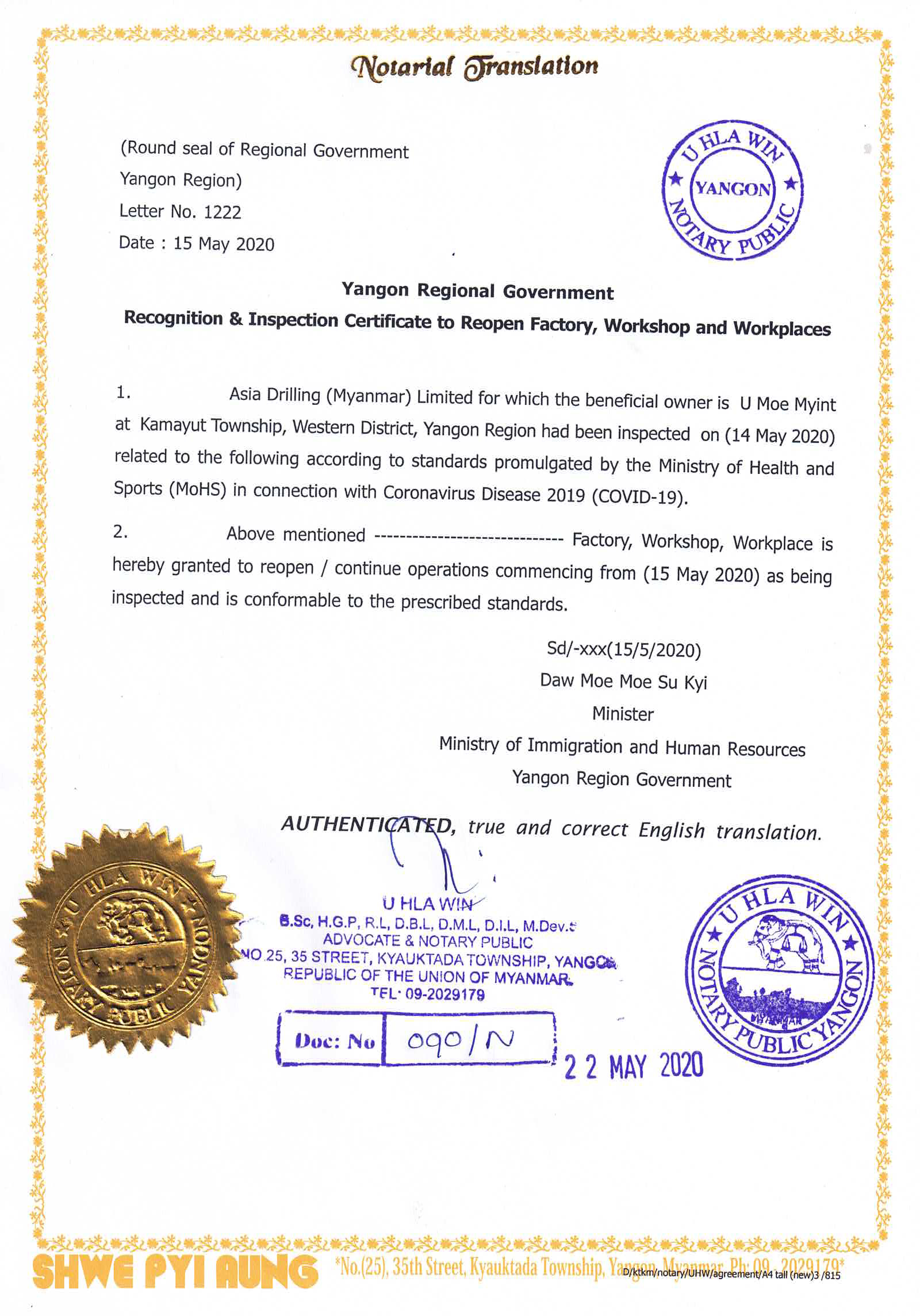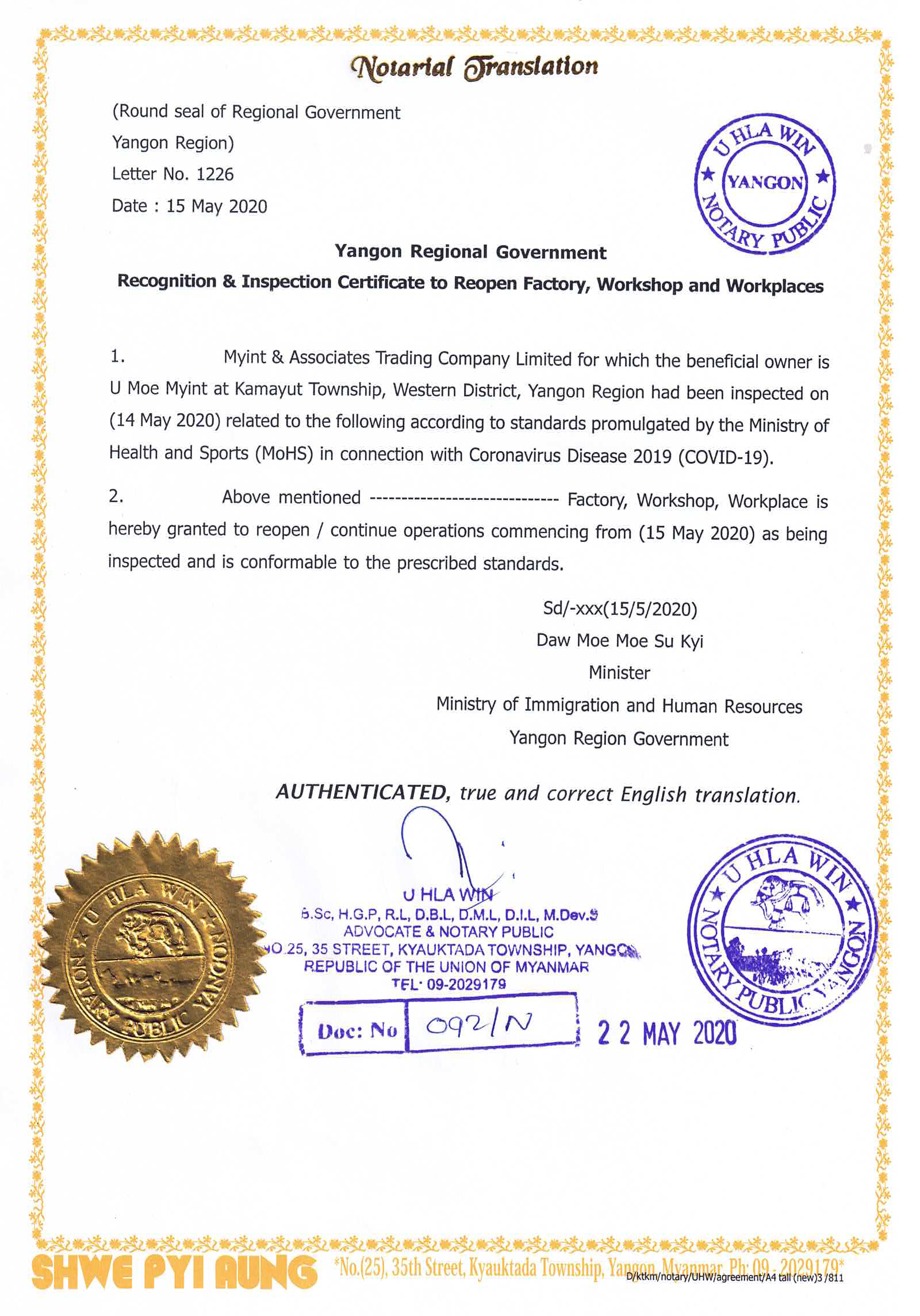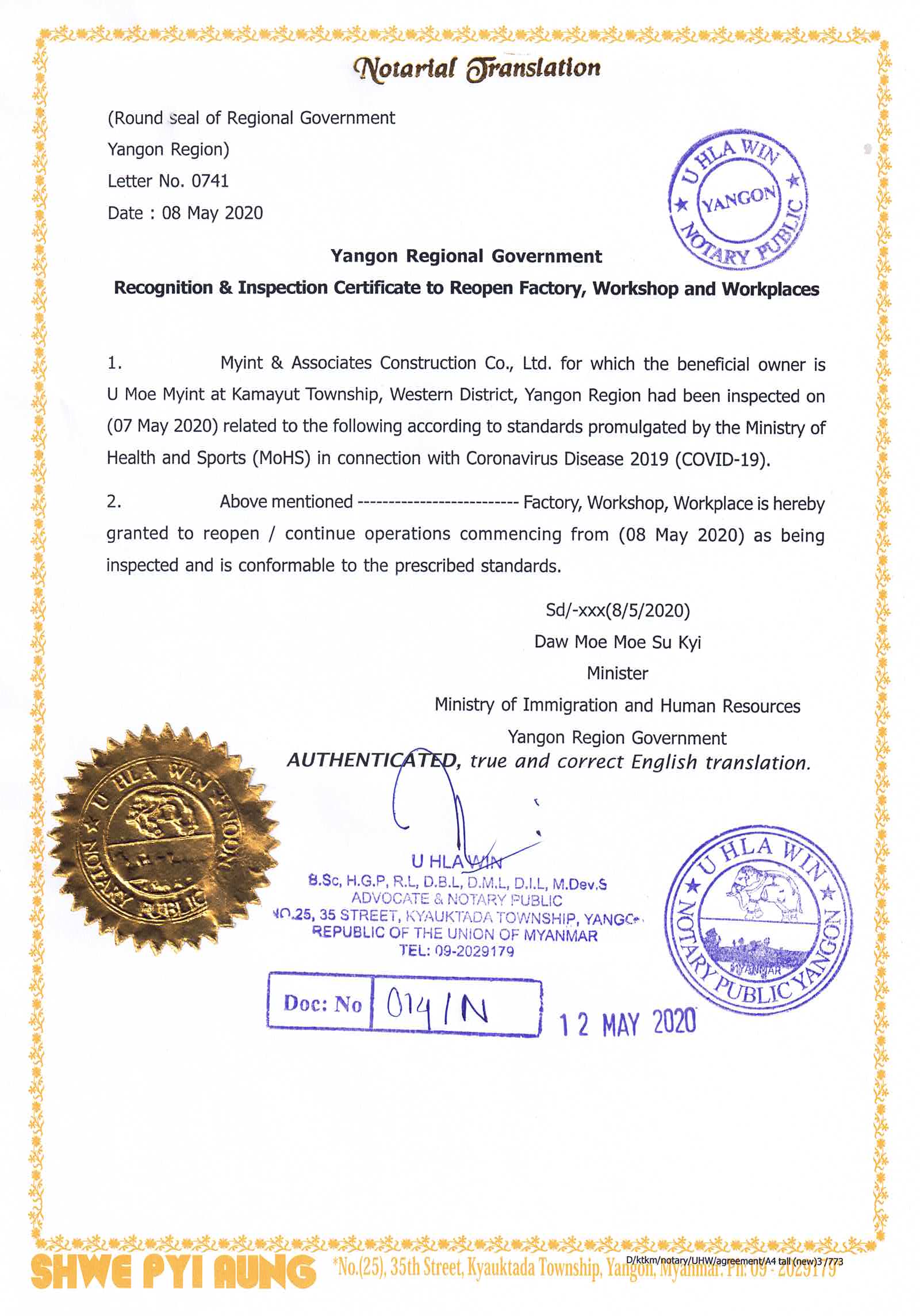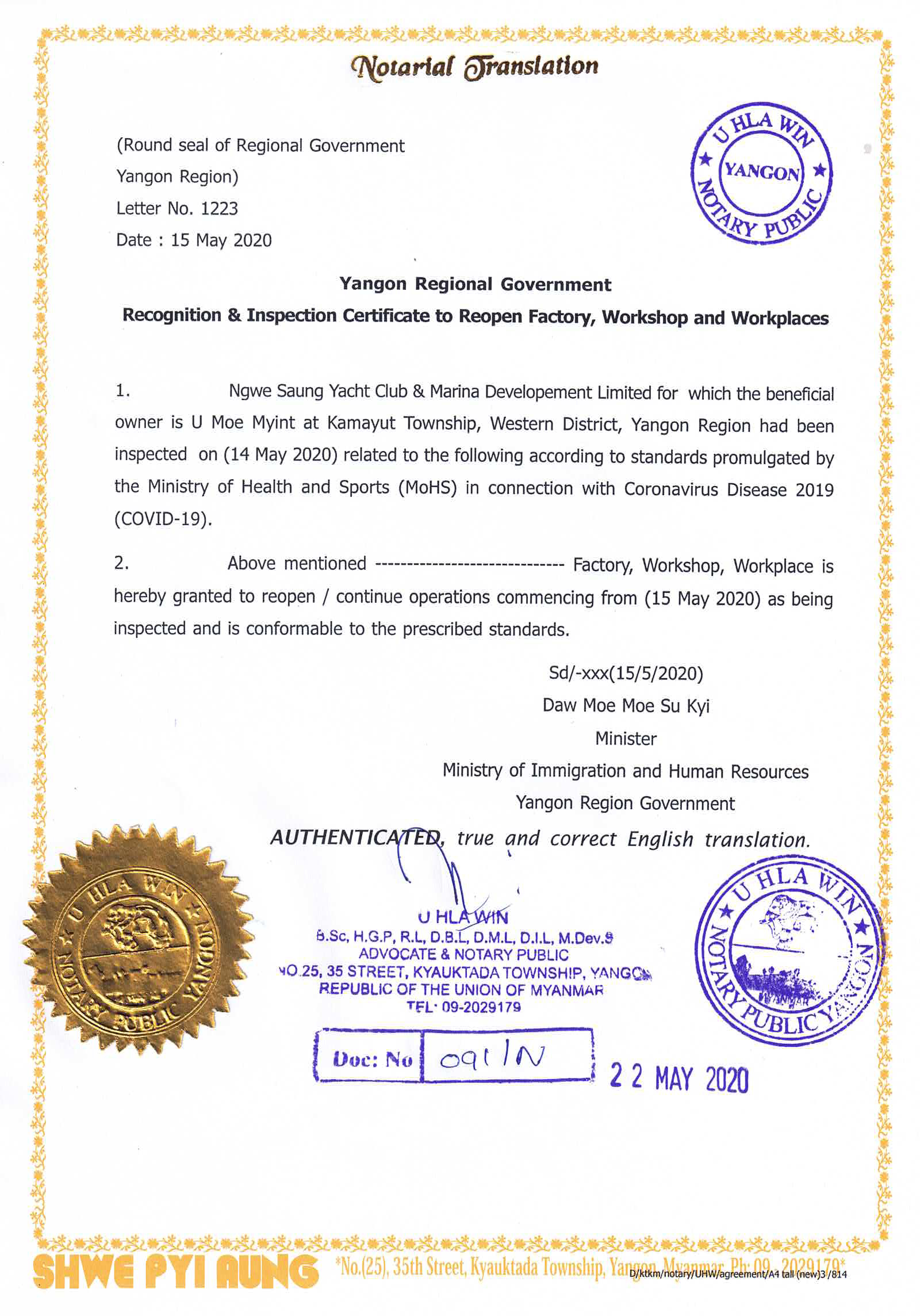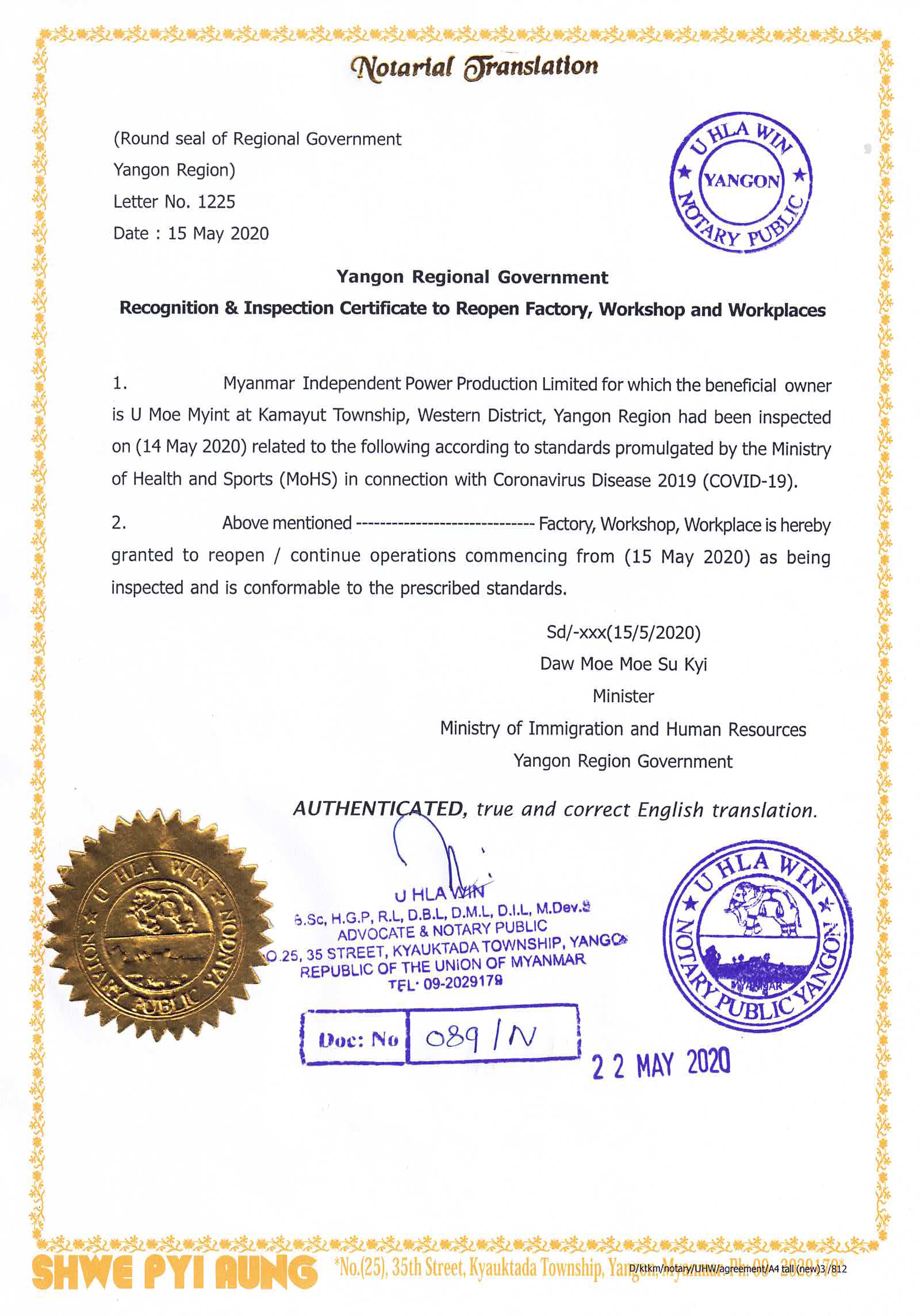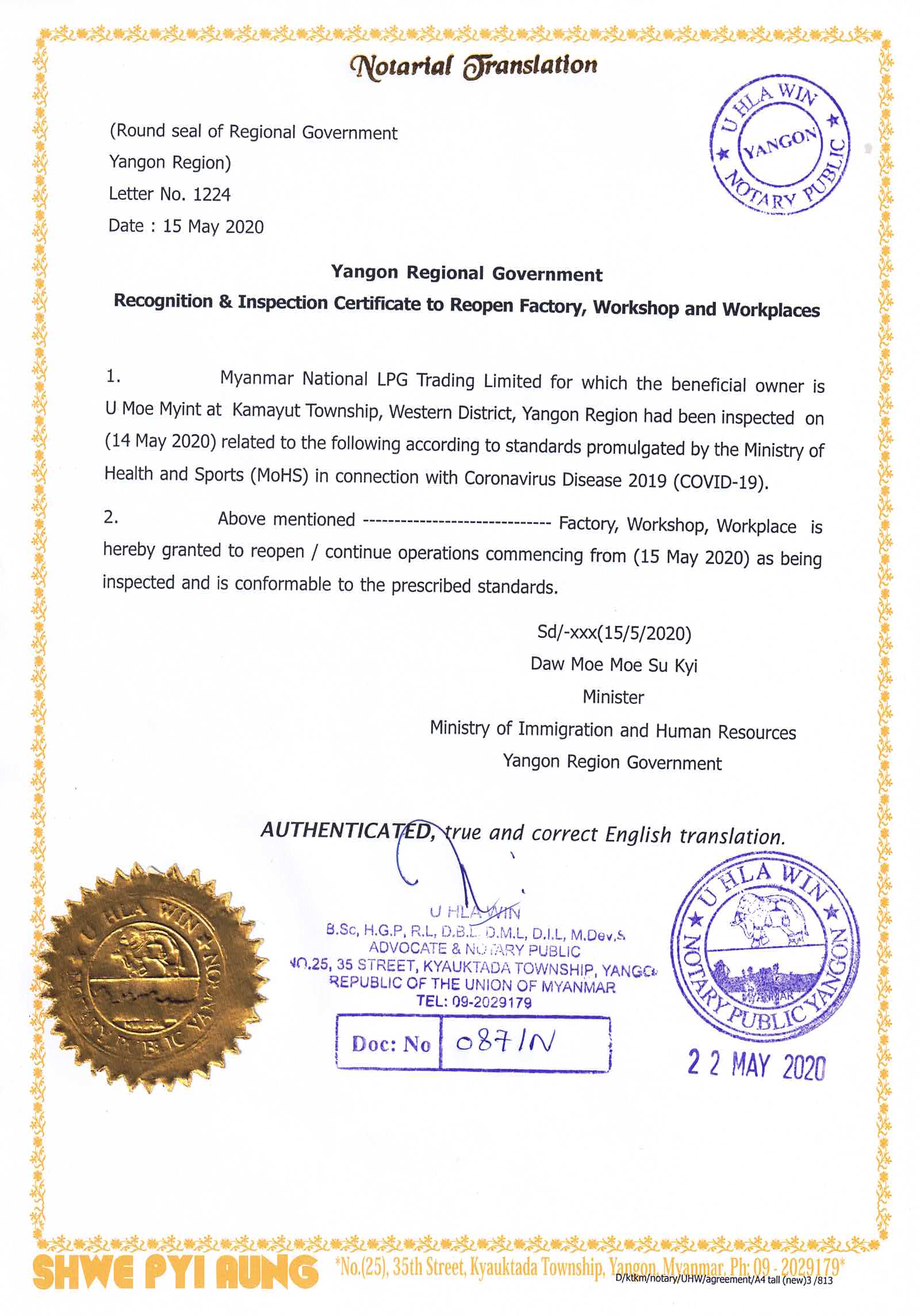 Back to Work with the "New Normal"
At the moment, the virus keeps spreading and there are no specific treatments or vaccines according to the WHO. By the end of June, there are 10,450,628 globally confirmed cases of COVID-19 and 510,631 people have died from the virus according to the Johns Hopkins Coronavirus Resource Center.
In Myanmar, life is slowly and carefully back to normal for many people while the National Central Committee for Prevention, Control, and Treatment of COVID-19 has extended temporary control measures against the virus until mid-July 2020 with the exemptions for reopening businesses and government offices. Certainly, our staff across the Group of Companies are returning to work starting from 16 June 2020 and strictly adopting the new normal as it is still of great magnitude that everyone keeps their guard up and stays safe.