We aim to build partnerships with communities wherever we operate. We establish community based volunteers to work with us and help manage the social impacts of our business activities, address concerns associated with our operations, and ensure development opportunities are provided.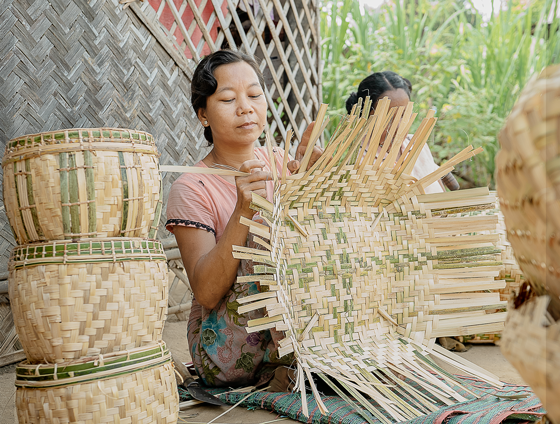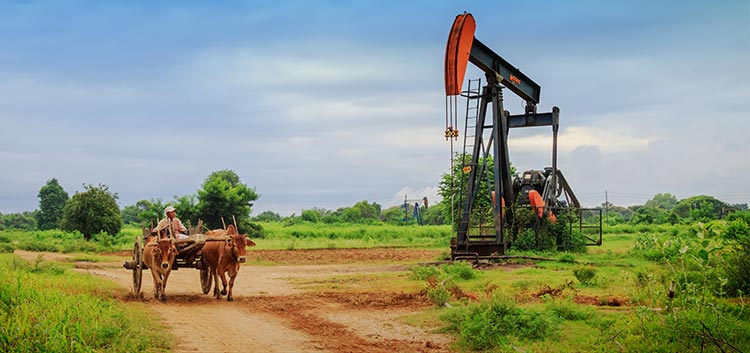 Communities Lead Village Development in Mann Field
Empowering communities to acquire ownership
Read more
Communities Lead Village Development in Mann Field

Empowering communities to acquire ownership
MPRL E&P started implementing philanthropic Corporate Social Responsibility initiatives in Mann field since its assumption of responsibility in 1999, concentrating on the four areas: strengthening access to education, improving access to basic healthcare, water and sanitation, socio-cultural initiatives, and disaster response and management. It was in 2012 when the Company began to further develop its CSR thinking from a philanthropic one to a more strategic focus, which centers on engaging and supporting the development of local communities.
As a result, the Company's CSR team has initiated engagement with 14 communities living in the project area in order to directly address their needs and concerns regarding community development and impacts of the business operations, with a goal of contributing to the sustainable development and livelihoods of the communities through active engagement and regular dialogue.
One of the successful engagement methods is the establishment of Village Development Committees in each community. U Kan Chun, a 48-year-old farmer, Village Administrator and Village Development Committee member from Kyar Kan Village, one of the surrounding villages in Mann field, explained how the Committee was 'formally' formed in November 2015.
"The CSR team from the Company came to meet with the village administrators of the 14 villages in Mann field and discussed how they could support us based on our needs and focus. Although there used to be some such committee for electricity supply in my community, for example, the Village Development Committee was firmly established through the partnership between village elders, youth groups, village administrators, MOGE's and MPRL E&P's CSR teams to implement the community investment initiatives."
It has been aimed to be more than engagement: the community members are empowered to effectively acquire ownership of the community investment projects reflecting and meeting their specific needs, from planning, designing, to implementing and managing the projects through the support of MPRL E&P's CSR team. Another 63-year-old Village Committee Member from Ywar Thar Village of which its own Committee was formed in September 2014 contemplated over the knowledge transfer sessions and capacity building trainings by the CSR team and how they have contributed to the formation of knowledge, skills, attitudes and shared values among community members.
"The trainings were provided for collecting and maintaining data and funds for the development projects as well as managing the processes and procedures. Basically, they included project management training, facilitation training and team building training. This is to help us do our work better, in collaboration with MOGE and the Company."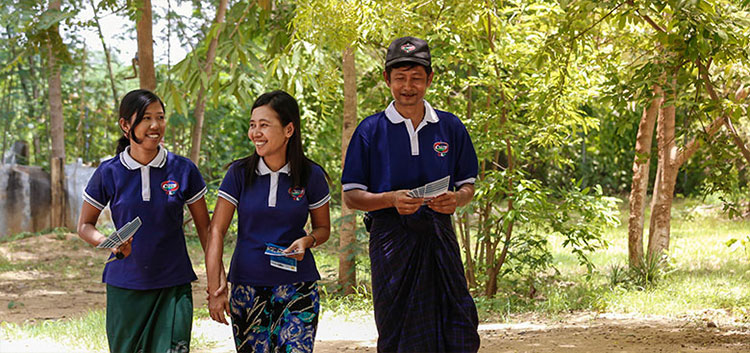 Answering the Call of a Community Volunteer in Mann Field
Field Community volunteers: forging a relationship to make a real change.
Read more
Answering the Call of a Community Volunteer in Mann Field

Field Community volunteers: forging a relationship to make a real change.
Ko Kyaw Kyaw Naing is a 27-year-old community volunteer from Lay Eain Tan Village, one of the communities surrounding Mann Field, and he has been working with MPRL E&P since January 2014. MPRL E&P identified a group of volunteers with diverse backgrounds from local communities where its operations happen in order to assist with better understanding of the needs of people living close to the operations areas, implementation and monitoring of community investment projects. Ko Kyaw Kyaw Naing explains how he was drawn to MPRL E&P's mobilization of local Samaritans.
"I have joined to work as a volunteer to help basically build engagement and trust among local communities, MPRL E&P and MOGE (Myanma Oil and Gas Enterprise) since January 2014 because I feel a calling towards altruism and I want to make a difference for the development of my village."
"I feel I am happy and satisfied working as a volunteer in that by doing what I can people gain benefits from it – they get something from it. My being as a volunteer now entails crafting transparent and accountable relationship between MPRL E&P and local communities. At the same time as MPRL E&P is engaging in community development initiatives for my village, I am determined to cooperate and contribute – dutifully and wholeheartedly."
As required to participate in regular community meetings, consultations, community surveys, dialogue and many other activities, the volunteers are equipped with necessary skills and knowledge through various trainings, orientations, briefings and other capacity-building initiatives provided by CSR team members.
Life is full of challenges and adversity. What connects Ko Kyaw Kyaw Naing with his job as a community volunteer has something to do with the challenges he is faced with – a lot of –ism such as criticism, confrontationalism and lack of cooperation. However, there are challenges that make you feel alive and engaged as well as challenges that make you feel merely overwhelming. For this dedicated, benevolent volunteer he concentrates on what he has achieved and what is next on the agenda.
"One of the milestones set in my life as a community volunteer is the completion of a short-term community investment initiative in my village – improving access to water. In the future I am confident and enthusiastic to bring in more development and create the good for my community in unison with MPRL E&P."
COMMUNITY INVESTMENTS
MPRL E&P recognizes that strategic community investment projects should provide value for the company and impact the community positively. As a result, MPRL E&P aims to contribute to the sustainable development and improved livelihoods of communities where we operate through active engagement and regular dialogue. This approach reduces risks, provides a social license to operate, and most importantly delivers business value for MPRL E&P. Our business objectives for community investment include building relationships and enabling employee engagement.
To support this approach, MPRL E&P encourages surrounding communities to participate in, and contribute to, the various discussions to address community needs where we operate. Our community investment initiatives aim to engage with and support local communities where we operate. We do this through:
Having an effective functioning grievance mechanism
Investing in sustainable livelihoods (education, capacity development, and vocational training)
Improving well-being (improve access to water, sanitation, hygiene, health, nutrition, and safety culture)
Partnerships with local groups
OUR STRATEGY
All MPRL E&P community investment and development projects must be strategic in that they address risk and impact resulting from our operations and have a rational basis for investment. Key methods such as continuous community consultation, stakeholder engagement, and identification of social impact and community needs help guide our business decisions and enable us to proactively address any community concerns. Outcome and impacts of all social investments are measured to indicate significant change.
OUR MANAGEMENT FRAMEWORK
Human rights, environmental management, communication, as well as community investment and development inform MPRL E&P's social management system. MPRL E&P's Community Investment Policy, CSR Policy, and Human Rights Policy influence how we engage with communities and people. The policies are consistent with internationally recognized International Finance Corporate Performance Standards on Environmental and Social Sustainability and United Nations Global Compact Principles.
The system provides for a focus on 'needs assessments and baseline' to gather the community's opinions, necessities, challenges, and assets in order to determine the real needs of the community.
---
Health, Water & Sanitation
Improving access to clean water is a basic necessity. It can improve the health, economy, and social wellbeing of a community. MPRL E&P invested in 11 communities within Mann field by building water wells and water tanks to ensure a constant access to water supplies. Village development committees were taught to manage the projects including community expectations. MPRL E&P worked alongside the committees and provided technical expertise to ensure safety standards and requirements were met as well as conducted knowledge transfer to ensure basic skills such as management was provided. At least 69% of the communities were satisfied with the project.
Education
Every child deserves the right to an education. Understanding the constraints of public schools in rural areas MPRL E&P has invested in school infrastructure, materials and equipment to aid the effectiveness and quality of education provided in Mann field. A total of 342 students aged 5-16 gained access to classroom furniture. A further total of 10 members of the communities received short-term work providing them with 130,000 MMK each.
Disaster Relief & Management
Effectively responding to natural disasters requires effective communication and a viable team ethic. MPRL E&P has responded to 2 large flooding disasters that affected the communities in Mann field. A series of assessments were initiated to better understand the needs and concerns of the communities ensuring the right type of relief was provided and effective rehabilitation followed. A total of USD 681,772.06 has been spent on 2 disaster responses and 171 employees volunteered a total of 2245 hours to assist with the relief and recovery.
Philanthropy
Supporting corporate philanthropy promotes a sense of company pride and loyalty. Encouraging employees to be active in the community is a value conveyed throughout the organization. A variety of projects have been established across Mann field to promote a sense of giving. Since 2001 a total of USD 106,068 has been spent on charity based activities.
Community Capacity Development
Building the capacity of key stakeholders is essential in order to establish community ownership and informed decision making. Key skills such as community mobilization, negotiation, facilitation, and project management have been provided to village development committees and community based volunteers. Since 2015, 618 training man-hours have been recorded.