Sharing opportunities for industrial training while studying.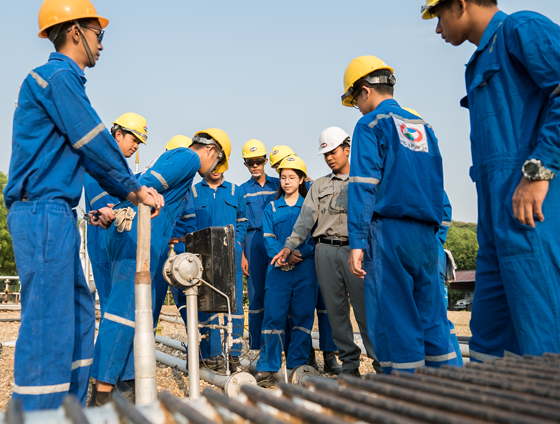 Fostering skills development
Attracting and recruiting skilled staff can be challenging. Investing in local content initiatives is the way forward to reflect the expansion of the oil and gas industry in Myanmar.
For two consecutive years, two dozen Petroleum Engineering students from the Yangon Technical University took part in MPRL E&P's internship program. As part of their mandatory industrial training, the students travelled to Mann Field and participated in three aspects of the program:
Field Study: whereby they familiarized with the many processes which bring oil from deep underground to the storage tanks
Assignments: where students integrated parts of the processes, observed and contributed to operations, while they were made aware of the importance of HSE and social acceptance of our activities in the field
Report & Presentation: where students had to prepare a report of their experience and present it to no less than the CEO in person as well as to professors of the YTU to be marked for the effectiveness of their communication skills.
The hands-on experience has helped the students gain a better understanding of how field equipment and processes work, of the importance of safety, and of communication to management. Students were provided with a chance to interact with experienced professionals and learn from best practice.
MYANMAR UNIVERSITY STUDENTS GAIN HANDS ON EXPERIENCE WITH MPRL E&P IN MANN FIELD.
Ensuring a future for oil and gas in Myanmar: The importance of mentorship and work experience.