Sharing opportunities for industrial training while studying.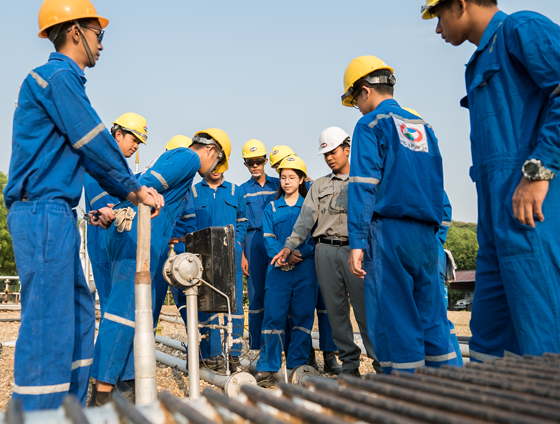 Fostering skills development
Attracting and recruiting skilled staff can be challenging. Investing in local content initiatives is the way forward to reflect the expansion of the oil and gas industry in Myanmar.
For two consecutive years, two dozen Petroleum Engineering students from the Yangon Technical University took part in MPRL E&P's internship program. As part of their mandatory industrial training, the students travelled to Mann Field and participated in three aspects of the program:
Field Study: whereby they familiarized with the many processes which bring oil from deep underground to the storage tanks
Assignments: where students integrated parts of the processes, observed and contributed to operations, while they were made aware of the importance of HSE and social acceptance of our activities in the field
Report & Presentation: where students had to prepare a report of their experience and present it to no less than the CEO in person as well as to professors of the YTU to be marked for the effectiveness of their communication skills.
The hands-on experience has helped the students gain a better understanding of how field equipment and processes work, of the importance of safety, and of communication to management. Students were provided with a chance to interact with experienced professionals and learn from best practice.
A Female Petroleum Engineer from Mann Oil Field
Petroleum engineering is the application of science, engineering and economic principles to the discovery of oil and gas resources over land and under seabeds.
Read more
A Female Petroleum Engineer from Mann Oil Field

Petroleum engineering is the application of science, engineering and economic principles to the discovery of oil and gas resources over land and under seabeds.
It is one of the most challenging and rewarding careers that ensures access to energy and national prosperity in our modern civilization which depends on vast energy systems. In this regard, petroleum engineers function in oil and gas exploration and production projects around the world and here is the story of a female petroleum engineer, Naw Floriance George, aka Floriance, working in one of Myanmar's onshore producing fields which has played an important role in fulfilling national energy needs since 1970.
Floriance, named after St. Floriance for being a Roman Catholic born on his feast day, hails from northern Kayin State, and her earliest and closest experience with petroleum was the kerosene lantern with which she worked on her lessons with at night during her childhood. She introduced herself saying, "I was born in a town called Leik Tho in Kayin State. I studied my secondary school years at a boarding school in Pyin Oo Lwin. I am a Kayin Gekho by ethnicity, like the well-known Myanmar women professional fighting sensations Bozhena Antoniyar and Veronica. Naw is an honorific for all the girls and women, and George is my family name. There is no one associated with petroleum field in my family."
Quizzed about how she happened to choose the petroleum engineering subject as she was applying for universities upon passing the Matriculation Examination in 2012, Floriance laughed and said, "The decision is like love at first sight. I really had no idea what the subject would be all about. I saw an offshore rig, a very big one, on the university's prospectus and I decided this is what I wanted to study. Boom!"
While studying petroleum engineering for six long years at the Yangon Technological University (YTU), she went all out to make the most of the multiple internships at MPRL E&P and Petronas Carligali Myanmar (PCML). When asked if she could work as part of the field operations team in Mann Field during the job interview, she was beyond herself with excitement at the idea of getting her hands dirty and being on the frontlines. Then, she successfully landed her career as a Junior Engineer in December 2018.
Today Floriance is full of pride and satisfaction for her role in the production operations in Mann Field where she gained hands-on experience every day with the mentorship of senior colleagues which includes engineers, geologists and technicians. She said, "Production optimization operations is the playing ground where I imagined to be all the time during my final year at YTU. I like starting with the basics and I love to go the extra mile at a time. I want to see the result of my efforts first hand so, a field job suits my personality."
She spared no effort during the first few months of her career in Mann Field, and Floriance has now garnered a good grasp of the production enhancement operations and the importance of teamwork. "The daily production of Mann Oil Field depends on the synergy of the whole field operations team. To have team work, means comprehending one another and understanding that their jobs matter. We will leave no stone unturned!"
Floriance also enjoys taking the very challenges of consummating the marriage of theory and practice in daily operations. "Because we cannot see everything with our own eyes, some have to be imagined in the mind's eye. When problems arise on the ground, we have to figure out a practical solution, and I love it. Another challenge is to take the positive safety culture we already have to a whole new level where each and every one of the folks here lives by it."
Life in the field is also a challenge, Floriance agreed. "The weather is different. In summer, it is scorching hot and we are prone to heat stroke and heat stress. In winter, you have to anticipate temperatures dropping to a freezing point. Both types of these extreme weather conditions affect us. I live in a separate cabin in the camp with another female junior engineer colleague from the same batch at university. We are in different teams and so we seize ample opportunities to exchange our experiences after daily routines. Normally, we work for 12 hours a day and stay in the camp for 28 consecutive days. There are a set of rules to follow while in the camp. Then we are off to home for two weeks. So far so good."
Expounding on the success of the enhanced oil production techniques in Mann Field, the Junior Engineer said, "We work on optimizing and stabilizing oil production on a daily basis. Personally, I like using software applications to promote and support these operations. Now we are targeting to implement the spot water injection project in Mann Field. As we step up our efforts to extract more oil, we need to manage potential social and environmental impacts from our operations. I recall our Country Manager U Sithu Moe Myint giving a good example on the importance of social management in extractive projects during the orientation week. I believe we have very strong and successful social and environmental management programs in Mann Field, for instance, vocational trainings for local communities and zero discharge targets."
While she is learning to involve herself actively in many aspects of the onshore field operations in Mann Field, Floriance entertains the idea of participating in the offshore oil and gas development as the offshore drilling rig was what attracted her to the industry. Floriance uttered decisively, "I am aware of what I wanted to become may not fit into traditional gender roles but I have stuck to my guns to pursue my dreams anyways. The oil and gas industry is said to be a tough one with heavy machinery and dangerous operations, and not suitable for the faint-hearted. According to my experiences here, I can do what other male counterparts are doing, and I have set my heart on becoming a professional petroleum engineer in the future. So the debate is over."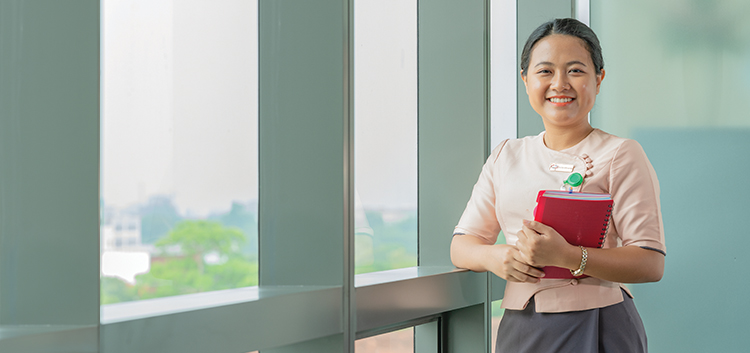 The Face of Petroleum Engineering
From classroom to office desk, Toe Akari Hlaing navigates her journey as a young female petroleum engineer.
Read more
The Face of Petroleum Engineering

From classroom to office desk, Toe Akari Hlaing navigates her journey as a young female petroleum engineer.
Since her childhood, Toe Akari Hlaing, aka Toe, always gets excited at the idea of becoming an engineer, although not necessarily about entering the oil and gas industry which is associated with dangerous rigs and infamous for being less receptive of women engineers. Anyhow, she ends up graduating with a Bachelor of Petroleum Engineering from the Yangon Technological University (YTU) in 2018 and is determined to become a professional petroleum engineer.
During her six-year voyage at the university, she had many hitches but few friends of the same gender, because there were only six female students in her batch of Petroleum Engineering Class at YTU, which is hailed as one of the best universities in the country for students like Toe who passed her Matriculation Examination with distinctions in all subjects. When she was a second year student, she had a chance to have a two-week internship in Mann Field where she studied tools and equipment used in the oil and gas operations as well as life in the petroleum field. She recalled how the field experience helped her learn her lessons easily once back in class.
"Through this practical experience in the field, I was able to assimilate and understand all the theories and practice of petroleum engineering which I started studying in my third year. In the third year, I also got another internship at the Yangon Office of MPRL E&P. It was basically an office job under the supervision of the then Technical Manager, Mr. Daniel Chia."
The internships at MPRL E&P became more advanced and challenging as her academic years progressed. In the fifth year, Toe was involved in a multidisciplinary project to fulfill her academic requirements. "We had to choose our own topics and work together to complete the whole project from selecting potential areas to drill a well, to producing and transporting oil to storage tanks, through a multi-disciplinary team approach. MPRL E&P provided the required field data and information to us. We only had three months to complete the whole project that included writing a report and making a presentation. With the support of the company's seasoned engineers we sailed through it successfully."
As a variation, Toe also took up a nine-month internship at Total E&P Myanmar where she embraced an opportunity to get intimate with the natural gas fields and their operations. She has observed that the oil industry and the gas industry are quite different in terms of aspects such as tools and equipment used and working principles.
Whenever she has to make an important decision including choosing her first career upon graduation, Toe turns to her family which includes her parents and a brother, who are always appreciative and supportive of every effort and achievement she has made up to now.
"I always wanted to work at MPRL E&P since I was an intern there. I was able to build a good relationship with almost all the people in the technical functions during my internship, and I found the working culture that includes working environment, company goals, ethics and values, very dynamic with both a team-based approach and excellent management style. So I applied for a Junior Engineer position at the Reservoir Engineering Department following the encouragement of my family, and landed on my first career in December 2018 at the age of 22."
In the Reservoir Engineering team, Toe found herself to be the only girl. However, with the succor of her team members and increased promotion of diversity in the workplaces across the country, she aims to spread the message that the oil and gas industry is very conducive to everyone including women engineers with stringent health and safety standards while proving to herself that women are equally intelligent and capable of jobs in science, technology and engineering, to men or even better.
"All the seniors in my department are men. This makes me even more aware of the oil and gas industry being less diverse. However, I believe the field of engineering is not based on if someone is a man or woman. Rather it is based on if they can make it. Our society has different expectations for men and women. While men are not required to stay home and take care of the family all the time, women are. So women are not supposed to be well-suited to field-based jobs in the petroleum industry. However, that has to be changed," said Toe in a confident tone.
As a Junior Engineer, she carries out reservoir studies and reservoir engineering functions such as decline curve analysis, waterflooding analysis and other research. She assists her manager, senior engineers and assistant engineers in her department with updating the database, monitoring daily production rates and productivity performance of individual wells, and appraising proven remaining reserves in Mann Field. She also has been assigned to be part of the Block A-6 Project Development Team. Toe believes energy development should go hand in hand with sound environmental management and social progress.
"Energy industries are really important because they have enormous impact on all aspects of our life. We use energy to light our home and cook our lunch, to commute to work and school, to produce goods and run our economy. Currently, energy demand is growing in the country. In this regard, the government and private sector should keep working together to optimize current field productions, to develop new fields and to explore more prospects. At the same time, environmental impacts like greenhouse gas emissions due to hydrocarbon extraction, refining, transporting and consumption needs to be curbed with the use of technologies and market mechanisms. In addition, social impact management is important to ensure community support and creation of shared value."
She also insists that technologies are key to developing the country which is rich in natural resources. That is one reason why she decided to study a subject which attracts few women. "By learning the tools and techniques of the petroleum engineering field we are able to estimate how much hydrocarbon resources the country has and study how much of it can be economically recoverable. As a petroleum engineer, the most exciting aspect of my job is that new challenges pop up every day and I have realized that I should never stop learning!"
Although currently confined to an office environment, Toe imagines a time when she moves to the field and gains more experience. She pictures herself as a successful petroleum engineer working in one of the most important roles for the development of the country within five or ten years from now.
"I felt inspired to become an outstanding female petroleum engineer after watching the video clip of an interview program with our CEO, namely, 'Passing the Leadership Baton'. He mentioned that the company gives equal employment opportunities for both men and women. According to my own experience, that is right and the company recruits its employees based on their skills and experience, not on their gender. So I would like to encourage other female petroleum engineers to pursue their dreams as well."
MYANMAR UNIVERSITY STUDENTS GAIN HANDS ON EXPERIENCE WITH MPRL E&P IN MANN FIELD.
Ensuring a future for oil and gas in Myanmar: The importance of mentorship and work experience.