Protecting our people is of the highest importance to us. Everything we do begins with a commitment to safety. The responsibility of safety is solidly placed within the line organization, from the top manager down to the first-line leader.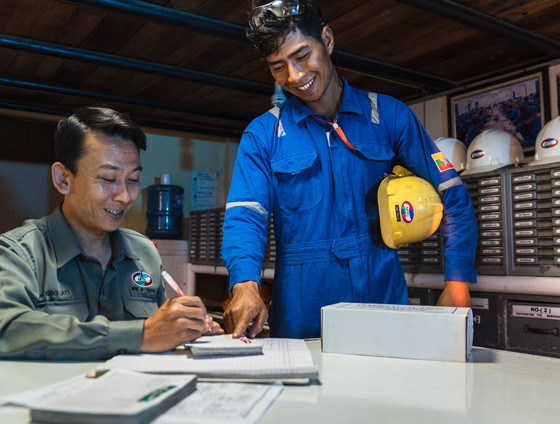 MPRL E&P is committed to continuously improving health, safety, and environmental (HSE) performance. In addition, we strive to embed a safety-first culture consistent with our fundamental goals, which include:
Zero accidents
No harm to people
Minimal environmental impact
Our Strategy
MPRL E&P expects active participation in achieving its health and safety goals and commitments by all employees and managers, regardless of corporate hierarchy, contractor, and/or suppliers who individually and collectively are responsible for performance, across the business value chain. As a result the following commitments influence our strategy:
Meet or exceed the requirements of applicable HSE legislation, regulations and company HSE expectations.
Continually strive to reduce the impact of our business on health, safety and the environment by applying safe working practices, reducing waste, and using energy efficiently.
Conduct appropriate training to ensure all our personnel are competent in their respective jobs and understand and adhere to this policy.
Ensure business plans and personal objectives include measurable HSE targets, which are established annually and reviewed regularly.
Our Management Framework
To create a safer working environment, MPRL E&P has a core management system that integrates existing and potential project activities. The structure and content of this system is based upon the guidelines of OHSAS 18001:2007 and HSE 65 Managing for Health and Safety.
MPRL E&P HSE Management System

In order to expand the existing internal HSE practices, the following processes have been incorporated as a standard requirement of MPRL E&P's corporate culture:
Accessibility to safety cards promoting concern, action, reinforcement, and encouragement (CARE Cards)
Safety awards
Pre-job safety meeting
Daily toolbox talks
Job safety analysis & risk assessment implementation
Permit to work system/lockout & tagout/confined space entry
Weekly safety meetings
Monthly management meetings
Monthly HSE committee meetings
Emergency drill exercises
HSE promotion
Safety alerts
Safety trainings
Together with these activities, MPRL E&P has implemented specific procedures such as a) hazard identification and risk assessment procedures, b) incident investigation and reporting procedures, c) transportation management procedures, and d) lifting operation procedures.
Additionally, these practices and procedures have been extended into our supply chain and provide instructions on the monitoring and management of contractors' practices, where required, in order to ensure that they meet the HSE standards stipulated by MPRL E&P.